Brides, we can only imagine how hectic and crazy it can get when planning a wedding. With one thousand and one things to coordinate and plan, there is no doubt how the term "bridezillas" came about. That is why we are here to introduce to you the wedding trends that have been emerging in the world of lace and veils. Today, we will be talking about the trend of
Textured Cakes - aka cakes that look beautiful and taste heavenly at the same time.
Let's get started!
1. For the Intricate Bride
If you love elaborate patterns, this is for you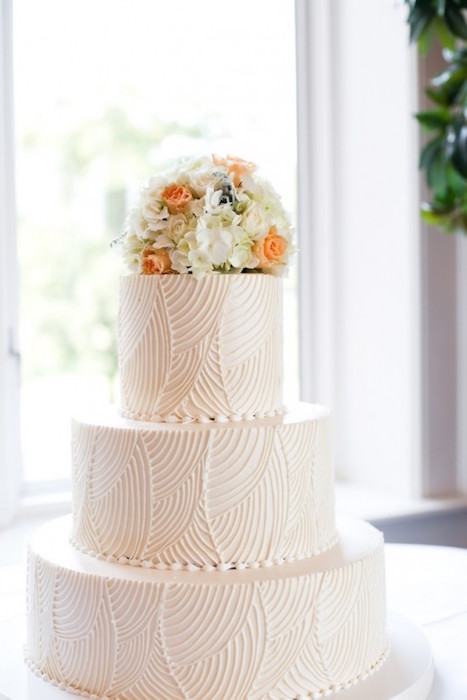 Pairing a simple off white butter cream with a raised piped design gives the cake an extra dimension without overdoing it. This cake is great for multi-tiered cakes, which brings about a cake that is both elegant and eye-catching at the same time.
Another cake for brides who love intricate details
This magnificent cake pulled off the intricate lace applique details with finesse by only having them on the first and third tiers on the cake. To complete the look, use pretty fresh blooms to adorn the tiers like how pastel pink blooms were used to complement this cake.
2. For the Modern Bride
That's right! Textures are not just for romantic looking cakes, they can be used to create a contemporary and edgy vibe too.
This cake consists of many different textures, but what gave it that contemporary vibe was the choice of colour - a classic white, and the simple lines and textures that were repeated throughout the tiers.
Similarly to the cake above, this cake is in one colour but in different hues for the various tiers. Stright lines were are mostly used as decoration, adhering to the modern and contemporary theme.
3. For the Elegant Bride
Ruffles give a wedding cake a understated kind of elegance, and is a perfect cake for the classy and chic bride. It gives volume and an illusion of many layers of crepes to the cake. To finish off the look, fresh blooms can be placed in between the tiers or as a cake topper.
If it's for a garden wedding, why not use a sprig of leaves to circle around the tiers?
4. For the Bohemian Bride
This cake brings to mind fairies having tea parties and dancing around a circle to toad stools. This beautiful, rustic cake would be a wonderful center piece for a garden wedding! The texturised cake is solely created using white buttercream, fresh blooms and greens.
Another exquisite choice for the rustic bride, texturised buttercream coupled with fresh blooms and herbs. Yes! Herbs can bring out the rustic vibes of a cake too! Have we mentioned that they smell good too?
5. For the Fun-Loving Bride
Want something fun and different? Check out the tropical themed wedding cake below!
Using different textures and vibrant colours to bring out the tropical theme, this is one fun and vibrant cake!
For that fun-loving bride, vibrant colours would play a huge part in bringing on the fun vibes. Try something different by combining different textures and colour together.
What about a texturised ombre cake in teal?
Texturised cakes can be used for any bride, be it rustic or all the way to fun - loving. It brings volumes and helps you achieve the look you are going for.
So next time when you are conceptualising for your wedding cake, why not try a texturised cake? Happy Sunday to all of you!